CUSTOMERS LOVE
North Vietnam
I would like to compliment Amanda Chen for her good services rendered to our tour group during the North Vietnam trip 7-12/12/22. She is very meticulous and responsible from pre- to post-trip, examples: 1) created Whatsapp group to communicate with the group 2) printed our vaccination certs, luggage tag with our names 3) special arrangements for 16 of us which booked together as friends, eg seating 4) ensure all passengers have no issues with their baggage post-trip before leaving the airport. During the trip, she took very good care of us, serving us with great patience and her heart. These include: 1) 3 of us from the tour group (including me) left our personal belongings at the hotels on different days. She was very nice to immediately call the hotel's housekeeping & always arranged to pick them up for us. I was extremely grateful to her for going the extra mile to arrange for her colleague from the next tour group to help me collect from the hotel's housekeeping as it was out of the way for our group to return to the hotel. Although the mittens were considered small value items, they were precious to me because they were Little Men/Miss limited edition by Bossini, which are no longer available for purchase. She followed through with me for more than 1 week after our trip to keep me updated & also ensure that I have collected the mittens from CTC office in Singapore yesterday. Her service level is really delightful & exemplary! 2) I was sick during the trip and she would visit me to check-in if I was alright or need anything else. 3) When we feedback about anything missing from the room, she would immediately help us contact/request from the hotel, cruise or restaurant. 4) She tried her best to meet the special needs of elderly in the group and the group's adhoc requests. For example, the Hanoi Chalcedony Hotel's double beds were very tiny and uncomfortable, so many of them requested to change to single beds. During one of the nights, she had to give up her own room for an unhappy customer. Thank you for assigning Amanda to our group and I wish her continued success in hospitality/customer service.
Ms. Hui Meen
Vietnam
My name is Marcus Leo.  Me and my family (consisting of my Dad, mum & my uncle) very recently went on a 5 day 4 night CTC tour of Vietnam. Our flight back to Singapore was yesterday 03/04/2023.  Our CTC travel tour guide was Mr Wen Jun.  I would like to give a very special mention to Mr Wen Jun and say that he has been extremely friendly, helpful and professional from the very start up to the very end of the arrival process back to Changi airport.  Throughout the entire tour, he has maintained a very high standard of professionalism throughout while still being friendly, funny, respectful and courteous to everyone.  Additionally, I must say this. My family understood that this tour was a purely Mandarin speaking tour. Having lived in Australia for more 20 years, me and my family are primarily English speaking with little comprehension of Mandarin. Throughout the whole tour, Mr Wen Jun went above and beyond his scope of duty to explain and translate things to us in English as we went along with the tour. He had no obligations to do this, but he went out of his way to do this for me and my family, and for that, we are very grateful to him and it made the difference between a good tour and a GREAT tour for us.  Me and my family have travelled around the world with many tour guides in the past, but very little to none of them were as professional and flexible as Mr Wen Jun.  The purpose of this e-mail is to give positive feedback for Mr Wen Jun. In conclusion, I am a very firm believer of giving credit when credit is due. I would like to say that Mr Wen Jun is indeed an asset to the CTC Travel Group. It is my hope that Mr Wen Jun be properly recognized for his good work and I would like to recommend Mr Wen Jun for a promotion within the CTC Travel Group.  I look forward to booking another tour with CTC Travel Group in the future and when I do, I hope to have Mr Wen Jun as my tour leader.  Thank you CTC & Wen Jun for a very happy and memorable Vietnam tour with my family. 
Mr. Marcus Leo
Hanoi Sapa Tour
I am writing here to compliments our Tour guide Mr Eric Yong. He have showered great care through out the whole of seven days. A great tour guide, he ensure all seniors are well taken care of and also most importantly all their well being. A wonderful guide who's strongly recommended and acknowledged for his professional and love with care during the tour.  I was down with food poisoning in the middle of the night. Vomited badly,  I called him, without any delay and hesitation, he came to our room with a boiling kettle from his room. To boiled water and given me the medication I needed. And the next morning, he sent me to the clinic and stays with me throughout the review by doctors. And also accompanying me back to hotel, reminded the front desk to deliver porridge to my room for my lunch and dinner.  My sincere heartfelt thanks to his kindness to ensure all our well being is well taken care of during the tour. I will sure looking forwards to join more tours to be guided by him. 
Ms. Margaret Ong Siong Ai
Finland
My name is Wendy. I travelled with my husband and my son to Finland, Norway and Estonia with CTC from 11 Dec to 19 Dec. I would like to write this Compliment Letter for your Product & Sales Manager Mr Jimmy Pua for his proactive and responsible attitude during the pre-sales consultation, his timely replies to help me conduct pre-trip preparation and his warm assistance to bring my son's lost winter jacket from Finland to Singapore. I met Jimmy at your Travel Revolution Fair booth in July 2022 at MBS. I was planning to let my son travel to a place to experience snow and cold weather. I visited some other travel agencies first and checked with them for Finland and Hokkaido packages. After I shared my concern that my son is a child with Autism so it may cause some inconvenience for other group members, the other sales persons did not give me enough useful feedback and ended up only encouraging me to pay the deposit as early as possible. I did not feel very confident so I just told myself that maybe I need to visit one more agency to get a second opinion. So I walked to CTC booth to talk to a lady about the Hokkaido package first. After understanding that Japan was not fully opened yet, I decided to only consider the Finland package. After I told Jimmy the same concern, he shared with me some past experiences he and his colleagues used to handle special needs kids in their groups. He told me it's quite challenging but things still could work out finally. He also suggested there can be some special arrangements such as we can sit at the last row on the bus, have dinner at a corner table, and stay in a corner quiet room with a reasonable distance to the rest. He even went to talk to his manager to double confirm which gave me more confidence and reassurance. So at that moment I decided to take this winter adventure with CTC. Later on I paid the deposit and then Jimmy added me on WhatsApp. He told me I could message him for any other questions before the trip. My husband is holding a China passport so he needs to get his Schengen Visa done. Jimmy answered all my tedious questions and prepared all the required documents regarding the visa application and even sent me the direction guide to the Visa Centre. For something he is not sure about, he also helped me to call the Visa Centre or the embassy to find out the answers. When there was one month ahead of the departure date Jimmy linked me up with our tour guide Edward and told me he shared our background with Edward so I can follow up with him to settle the arrangement details. Our trip went quite smoothly generally. I can see my son really enjoyed snow activities and learned several new skills. Really appreciate that other group members were being very friendly and supportive. The only regret is that due to the continuous snow and cloudy weather we were not able to see Aurora through our eyes. After reaching Singapore we realized my son lost his Uniqlo winter jacket at Holiday Club Hotel at Lapland. I remembered it should have been lost at either the playground above the canteen or our room. I contacted the hotel by email and they replied they found the jacket but did not know how to return to us. Then I messaged Jimmy who happened to travel nearby that area to let him know the situation. He replied to me later that he should be able to drop by the hotel so he can help me collect and bring it to Singapore. The winter jacket is not so valuable but it carries the unforgettable memory for my son to see and play with snow for the first time. I really appreciate Jimmy's assistance to help me bring it back from thousands of miles away. It was a Christmas Miracle for me. Overall I also need to thank CTC for arranging a wonderful trip for our family. This trip also marked an important milestone for my son to be able to manage himself and solve problems in a new environment. During the trip I also feel grateful that more and more people become aware about Autism and the more inclusive international society can support our special needs community to experience the same travelling joys during holiday seasons.
Ms. Wendy Zhao
Yunnan
I am writing to express my sincere appreciation and admiration for the exceptional service provide by Anson Tong and China Local tour guide Ms Su Cheng, during the 8D Yunnan Shangri-la tour that I recently participated in. Anson went above and beyond in ensuring that our tour experience was nothing short of extraordinary, and I believe it is important to acknowledge his outstanding efforts. From the moment I joined the tour, it was evident that Anson displayed exceptional organizational skills throughout the tour. He and the local tour guide Ms Su meticulously planned each day's itinerary, ensuring that we had ample time to explore key landmarks and attractions, while also allowing for moments of relaxation and personal discovery. Their attention to detail and seamless coordination made the entire experience effortless and enjoyable for all of us. Furthermore, Anson exhibited remarkable interpersonal skills, caring for elderly and fostering a warm and inclusive environment within our tour group. He is friendly, approachable and had a remarkable ability to cater to the diverse needs and interest of the group, ensuring that everyone felt valued and included. In addition, he is a good photographer who shared the beautiful photos each days in the chat group. His enthusiasm and passion for their work were palpable, and it undoubtedly contributed to the overall success of the tour. Lastly, Thank you for an outstanding tour, and please ensure that Mr Anson Tong and Ms Su receive the recognition they deserve. I look forward to embarking on future adventure with CTC and will not hesitate to recommend your service to family and friends.
Ms. Yang Shiow Ru
Spain, Portugal
Sending this email to appreciate our tour guide Don who did a wonder job during our Spain trip. He was tentative to our needs and always looking out to ensure that we are safe and well taken care of, especially in Europe which is theft prone. With his past experience he knew where to bring us for best photo shoots, food, best view of sceneries, catching sunset during winter which could be challenging as days are shorter. He recommended food at the different cities knowing our cravings for Asians food after a while. Bringing sauces for almost every meal that he anticipated we would need! And importantly always ahead/on-time to ensure that we experience minimum queues/crowds. Amazing guide and hope to travel with him/CTC again soon. The daily videos he made really are good summaries/memories which made this trip unforgettable, never missing out a family photo.   Not to forget Joanne too who recommended this tour during the NATA fare when I told her that I am looking for a place in Europe not so cold in Dec, good recommendation!
Ms. Yeo Seok Hwee
OUR APPROACH
Service Culture
Walking alongside with our customers and mapping out their travel journeys. Our staff are trained to deliver consistent and quality service standards, exuding a warm and cordial personality to serve our customers the best holidays.
Value Proposition
We provide the best of our offerings from tours, cruises, flights, accommodations, transportation and ground service and we give every traveller the reason to travel with us.
Strategic Partnerships
Dynamic relationships with partners and experts have enabled us to broaden horizons and expand minds while enhancing guests' experiences and bringing a smile to their faces each time we interact with them.
4
Product Research & Development
Product Research & Development
No run-of-the-mill travel package will be the same as ours. Each activity, attraction and accommodation are carefully considered to match the quality we promise to our guests. Our staff are able to better design and concoct exciting and immersive travel programs which are suited for varying travellers.
Innovation
We place great importance in staying relevant through the adoption of technology. We constantly innovate to keep up with changes and offer our guests greater accessibility and convenience.
OUR TOUR SPECIALISTS
TOUR MANAGERS
Anson Tong
Greetings, I am Anson Tong. I love travelling around the world & photography is my passion. Making sure my clients are enjoying and having a memorable vacation is my goal as a Tour Manager. Hope to see you on my trips very soon!
Don Yeo
Hola, my name is Don and I love to travel. it is my pleasure to travel with you to see the world. Travelling gives me the opportunity to explore new things and to meet people from various cultures and background. Bringing smiles to customers and receiving compliments after each tour, encourages me to do better, making my job not only enjoyable but also rewarding. Come and join me in my next travel!
Eric Yong
Hello! I am Eric Yong also known as 小扬. I have been a tour manager for the past 20 years and have been to many interesting and exciting countries in the world. Travelling in Style is an Art. Travelling with our wonderful customers is a JOY! The most satisfying part of my job is seeing all my passengers having a smile on their faces and giving me a thank you hug each time they have a safe and happy vacation. Always Be Happy & Smile Every Day! Hope to welcome you on my tours.
Eva Zhao
My name is Eva. I love my job as a Tour Leader and am extremely passionate about travelling. Travelling has also become one of the joys in my life. I enjoy the time spent with my group and I believe in having a balance and holistic lifestyle. So, join me on our wonderful trips and together we will see the world!
Jessie Leong
Hi, I am Jessie Leong. I love to travel because travel inspires me to learn and think more. It also allows me to have a wider exposure and gain insights to the many cultures and mesmerizing landscapes. Join in my tour and I will bring you to witness the beautiful wonders of the world.
Jimmy Pua
Come and explore the world with me - Jimmy Pua - your personalised tour curator. Get ready to be inspired on your next travel adventure together with me!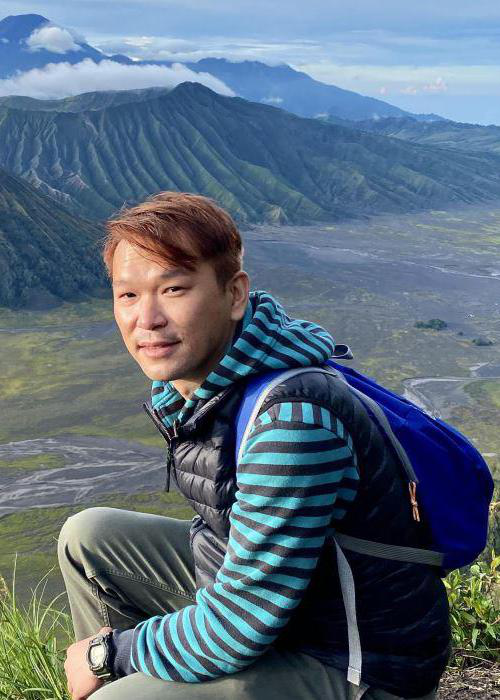 Kenneth Sim
My name is Kenneth. My passion is learning about life through travelling and exploring new things, I just love to travel because it makes me realize that the world is so beautiful and there is so much to admire and treasure. Come and join me...
Kovan Naa
Am passionate and simply love to smile. Hello everyone, I am Kovan your Tour Manager. I enjoy travelling and meeting people from all walks of life. That keeps me happy and always smiling! Let's travel the world together!
Psst ... Want updates on our latest tour promotions? Subscribe to our e-newsletters now!